Body Kitchen and Euronics Gaming (ESG) Esports Project: #fitimsplit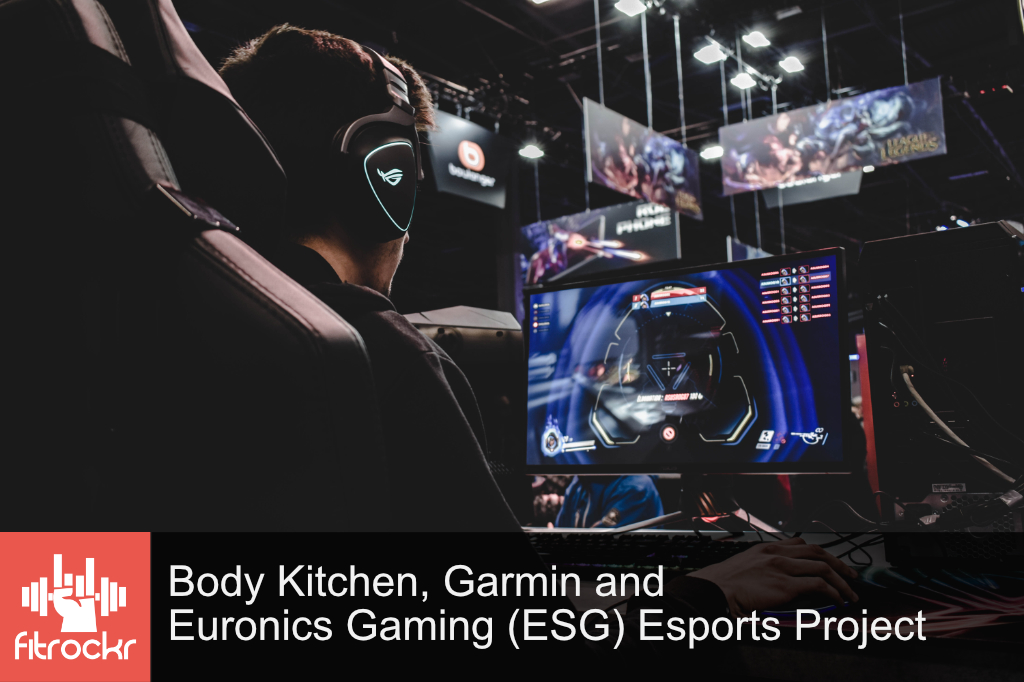 Body Kitchen's mission is to use transparency and outstanding content to get individual target groups, depending on their individual lifestyle, to cook new recipes, use sensible products, and perform better through conscious nutrition.
With this objective, the collaboration with Euronics Gaming (ESG) Esports Team started in 2021. The goal: to increase the health and in-game performance of esports players. To achieve this goal, the Body Kitchen team used advanced health tracking and analytics technology to record the health data of an entire League of Legend team over an entire season of play. These were analyzed and advice given to players based on the results. In parallel, the Body Kitchen media team produced content on the topic and played it out with Euronics Gaming to a gaming and esports audience.
Garmin and Fitrockr were brought in as technology partners for the project. The Garmin Instinct® Esports smartwatch was used to record the health data. The "Fitrockr Health Data Research Platform" was used to extract and analyze the recorded data.

Euronics Gaming (ESG) esports athletes wore the Garmin Instinct® Esports smartwatch during the project period, which recorded the players' health data around the clock. The recorded data was automatically transferred to the Fitrockr platform and analyzed by the Body Kitchen team of experts. In particular, the following information was analyzed and used to derive performance improvement measures and nutritional advice:
– Movement data
– Heart rate before, during and after games
– Stress levels during specific game and life situations
– Sleep behavior and sleep values
Interview with Body Kitchen

After the project, Jörg Fehlinger, CEO and Co-Founder of Fitrockr, talked to Simon Berg, CEO and Founder of Body Kitchen, about the project.
Jörg: How did you experience the project?
Simon: Hey Jörg, for us this project was an exciting pilot to be able to show how strong the load is in terms of stress, but also physique in the esport everyday life and how important in this context a conscious diet and a transparent and honest approach to performance values and the perception of their own body is.
Jörg: How was it for you to have 24/7 health data of your target group available for the first time? Did that change your ability to provide advice and performance?
Simon: We were very excited about the data in the beginning, because we couldn't find a comparison project with such a depth of data before. With such a treasure of data and our direct access to individual players via Discord, we were able to have a direct impact on the performance and well-being of Esport players.
Jörg: What health values in particular did you include in your analysis and advice? What information was particularly valuable for you?
Simon: Especially the measurement of the heart rate plays an important role in our analysis. It also determines the stress value and, of course, the development of the body battery through sleep tracking.
Jörg: What impact will this innovative approach have on future projects and nutritional counseling at your company?
Simon: We want to continue this approach next year with more athletes and teams and process our findings even more intensively. Other correlations that we have not yet been able to prove will also be interesting. For example, how a regular sleep routine affects stress perception in-game and in general in the short, medium and long term.
Jörg: How was the feedback from the esport athletes?
Simon: The esport athletes and the management of the team were surprised and very happy about how well the interpretation of the data, thanks to a professional interpretation by our experts from the fields of fitness training and different areas of nutritional science, led to new practices and thus to a more conscious approach to nutrition and the body. Ultimately, most of the participants have been able to improve their well-being as part of the collaboration. For example, by significantly reducing their weight or adjusting their sleep routine.
Jörg: Simon, thanks for the interview.
Simon: You are welcome.