(1) Go to https://admin.fitrockr.com on a web browser
(2) Enter your login and password
(3) Navigate to "Reports" > "Body Battery"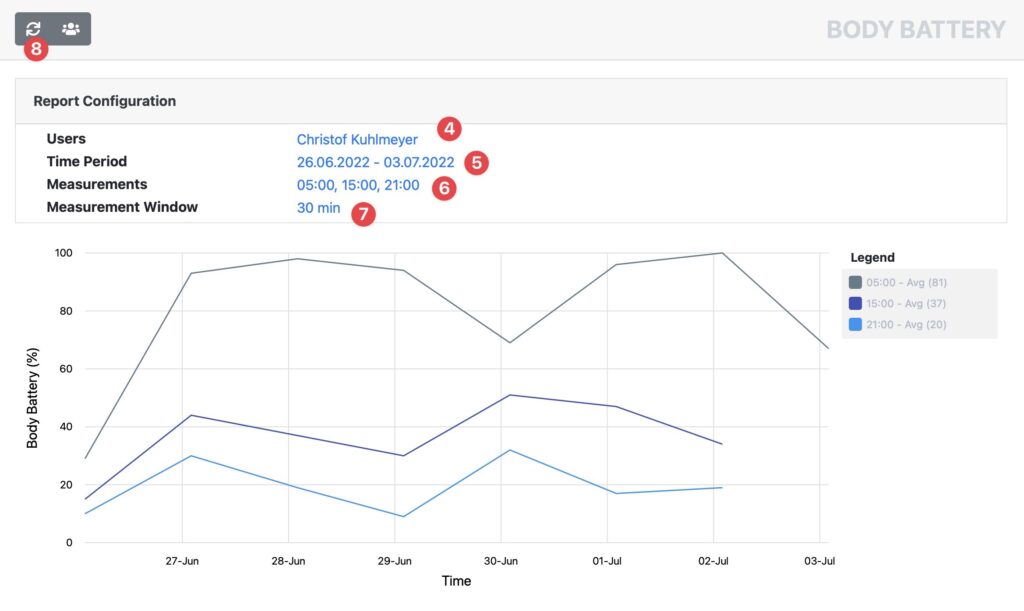 (4) Select a user
(5) Select the timeframe to be analyzed
(6) Select the measurement points to be included
(7) Select the measurement window to calculate the average
(8) Click refresh to generate the report with latest settings 
The report will show the average body battery for the selected measurements. The average will be calculated based in the measurement window that expands the measurement time.
For instance, if measurement is 07:00 and window is 5 min, average will be calculated from 6:55 – 7:05. Negative body battery measurements (i.e. off wrist measurements) are ignored and will not affect the calculation.
Measurement "Min" and "Max" will provide the minimum and maximum body battery measurement for each day during the timeframe.
The numbers "Avg (81)" in the Legend box shows the average for the respective line.