Tablet Sync (multi-sync) with USB cable
Tablet Compatibility Information
Fitrockr tablet sync is only compatible with the following Android tablets:
– Samsung Galaxy Tab A8 65GB version (4GB RAM)
– Xiaomi Pad 5
Alternative Android tablets can be used at own risk as functionality cannot be guaranteed. Ensure that there is at least 3GB RAM.
Please note that you can only connect up to 20 Garmin devices per tablet. If you have more than 20 devices, you need to distribute them across multiple tablets.
Setup – Pair Garmin Device
To use a Garmin device with a tablet, Garmin device needs to be known to the tablet. This is achieved by pairing the device with the tablet.
See below for alternative screenshot instructions.
Tip: activate subtitles in the video to see instructions!
(1) download the "Fitrockr Hub – Garmin Sync" app from the Google Play Store. 
Do not mistakenly download the "Fitrockr – Fitness Challenges" or "Fitrockr Live – Data Streaming" app. 
(2) open the Fitrockr Hub app.
(3) approve all consents to allow app to use camera, bluetooth, etc.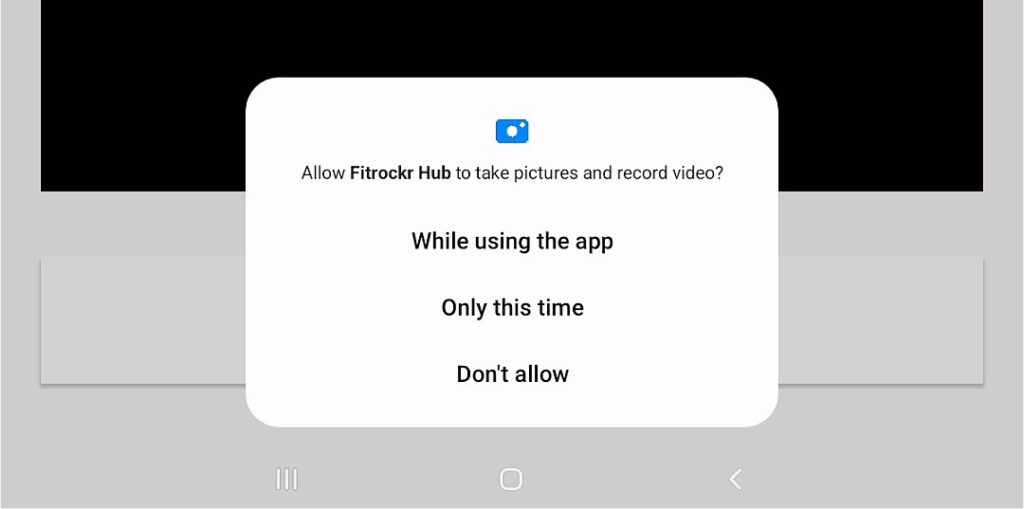 (4) get the tablet specific join-code in the Fitrockr Research & Control Center at Projects > Edit Project > Multi-Sync Tablet QR-Code. 
If your Fitrockr Research & Admin Center looks differently, request QR Code from Fitrockr Support at support@fitrockr.com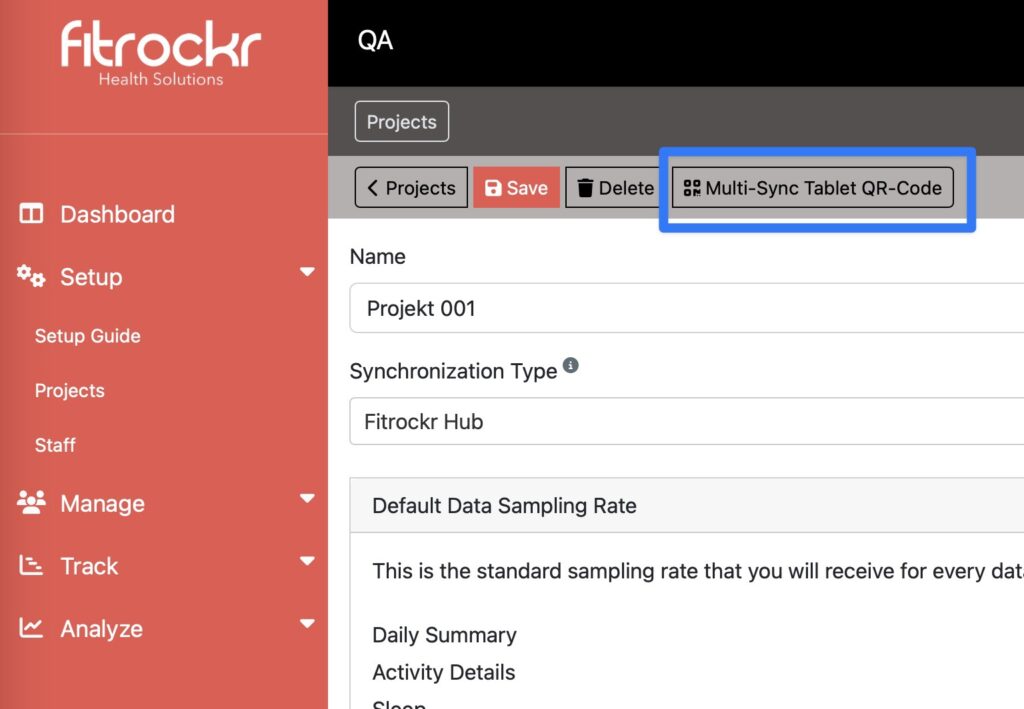 (5) scan code with tablet.
(6) open left-side navigation and select Users.
(7) select user to connect with a Garmin device. 
New users can be created by clicking on the (+) icon. Alternatively, users can be created in the Fitrockr Research & Control Center at Manage > Users. 
(4) Click the settings icon and select Connect Device.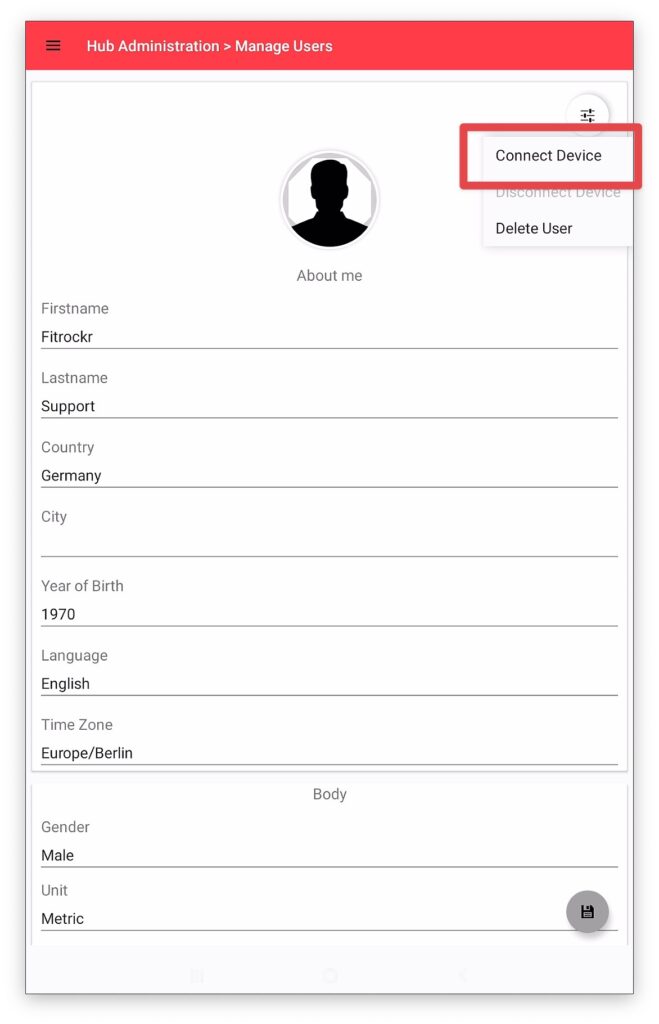 (5) Select the Garmin device from the list of available devices. If Garmin device does not appear, ensure that it is in Bluetooth Pairing mode. Please view the trouble shooting help guide in case of any issues.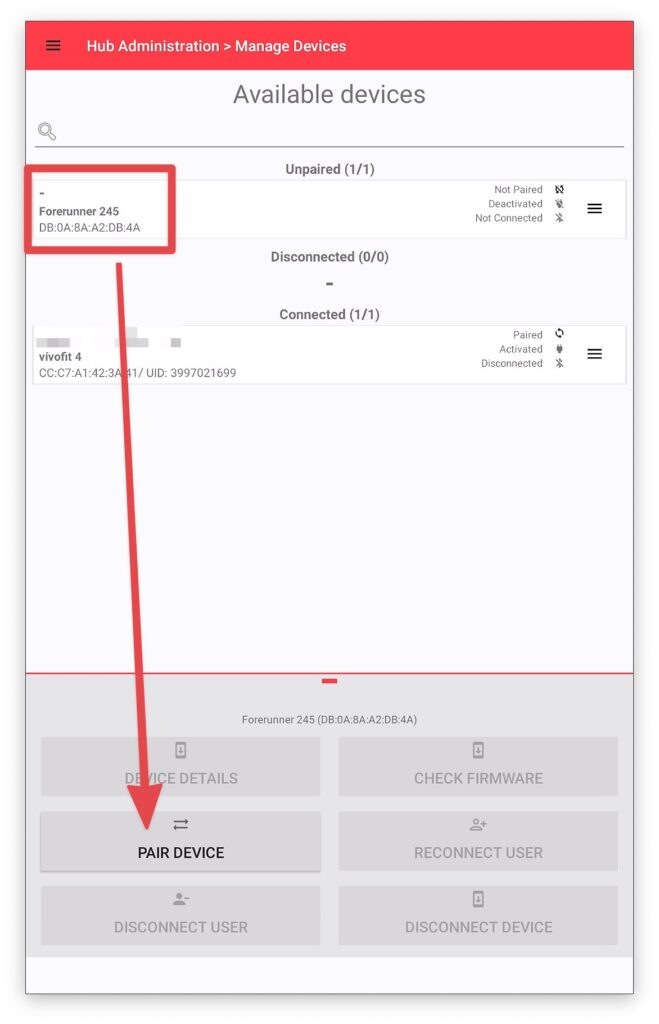 It is highly recommended to upgrade the firmware of all Garmin devices prior using them with Fitrockr Hub and in the project. The best way to upgrade the firmware of a Garmin device is by connecting it to a computer and opening the Garmin Updater software. It will identify the Garmin device and offer the possibility to upgrade the firmware.  
(6) Follow steps to pair the Garmin device.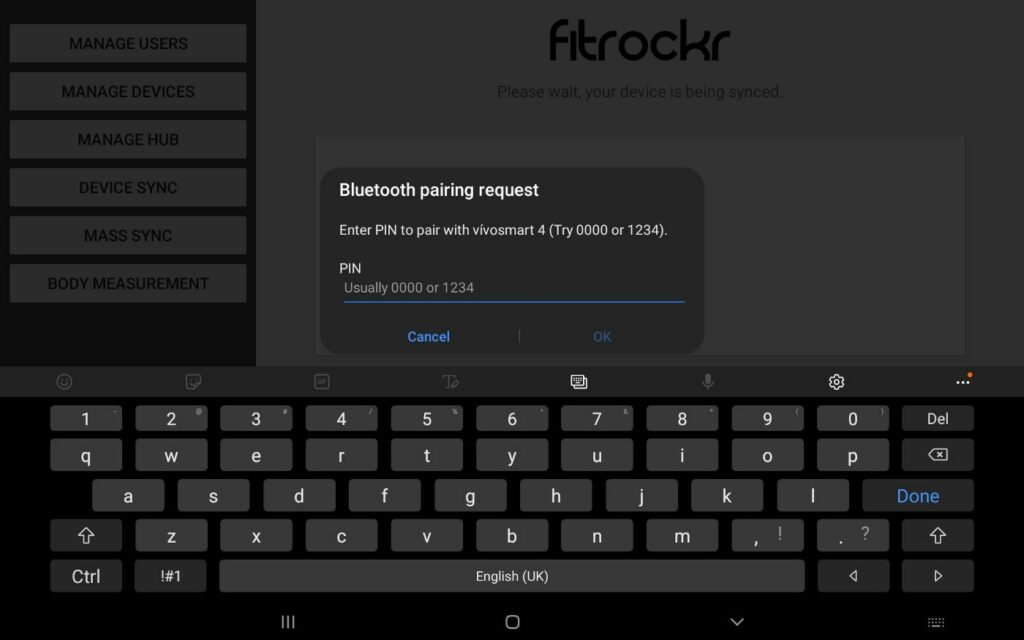 (7) After successful pairing, wait until the device has synchronized initially.
(8) Once initial sync is completed, select Device Details (either on the page where you are or go to the left-side navigation item Devices). Check whether the device has applied the correct data collection profile settings that you configured in the Fitrockr Research & Control Center at Setup > Projects. 
If not, please sync device again (navigation item Sync Device).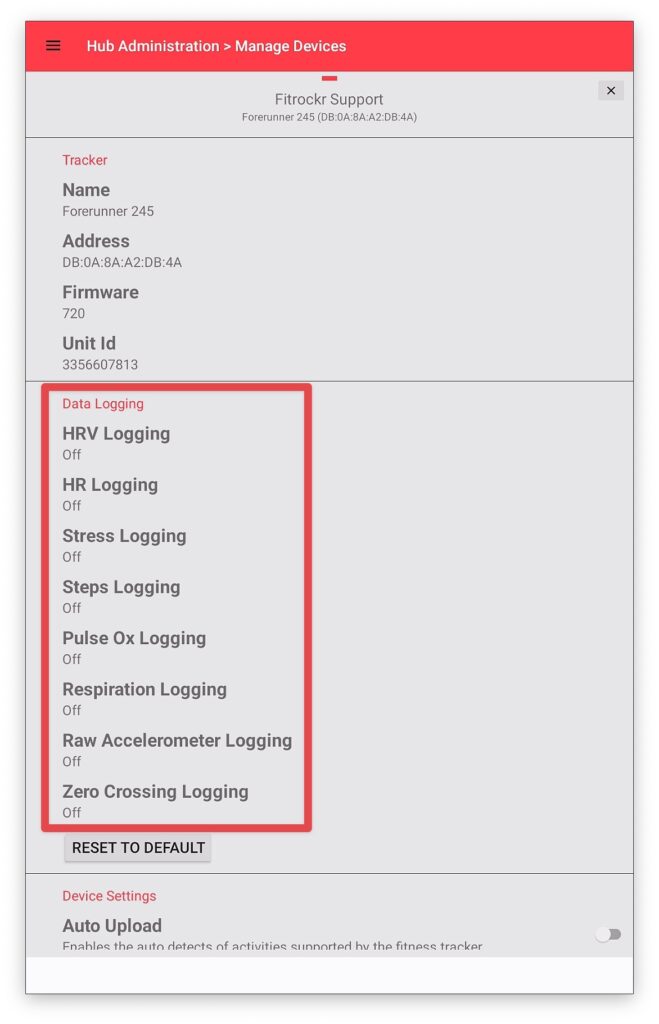 (7) Select device and click on Disconnect Device.
Garmin device is now set up and ready to collect data.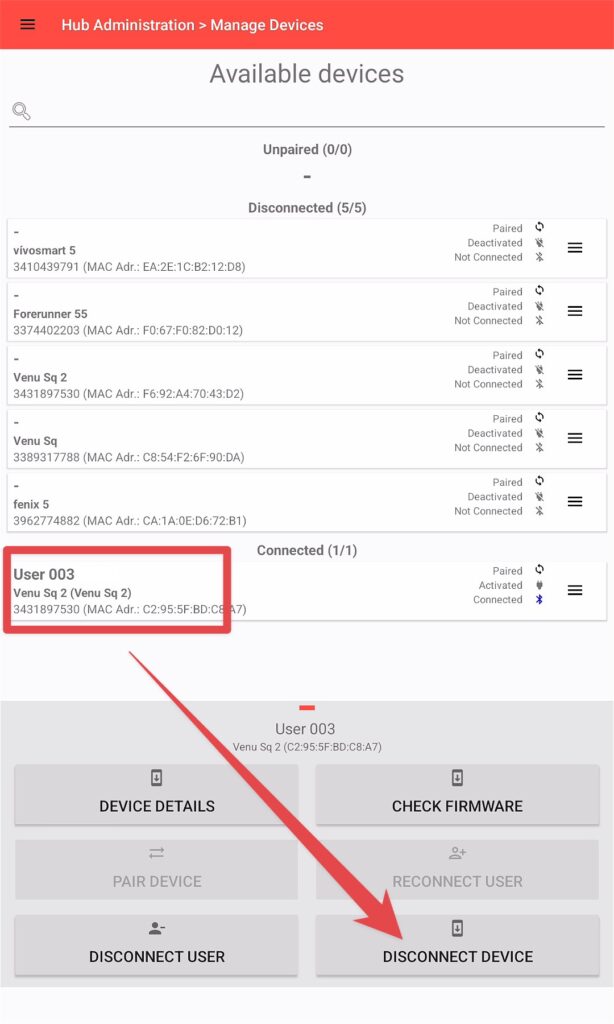 The reason for disconnecting the device is: 
(A) Android only allows up to 5 actively connected Garmin devices in parallel.
(B) Connected devices would not sync via USB cable because Bluetooth sync would always interfere.
See below for alternative screenshot instructions.
Tip: activate subtitles in the video to see instructions!

(1) connect the Garmin device to the tablet via its USB charging cable. 
Fitrockr Hub app can be open but does not have to be open.
(2) at first use, a popup message will appear. Confirm the popup message and make sure to check the setting "Always open Fitrockr Hub when null is connected". 
(3) wait until the device is found and synced.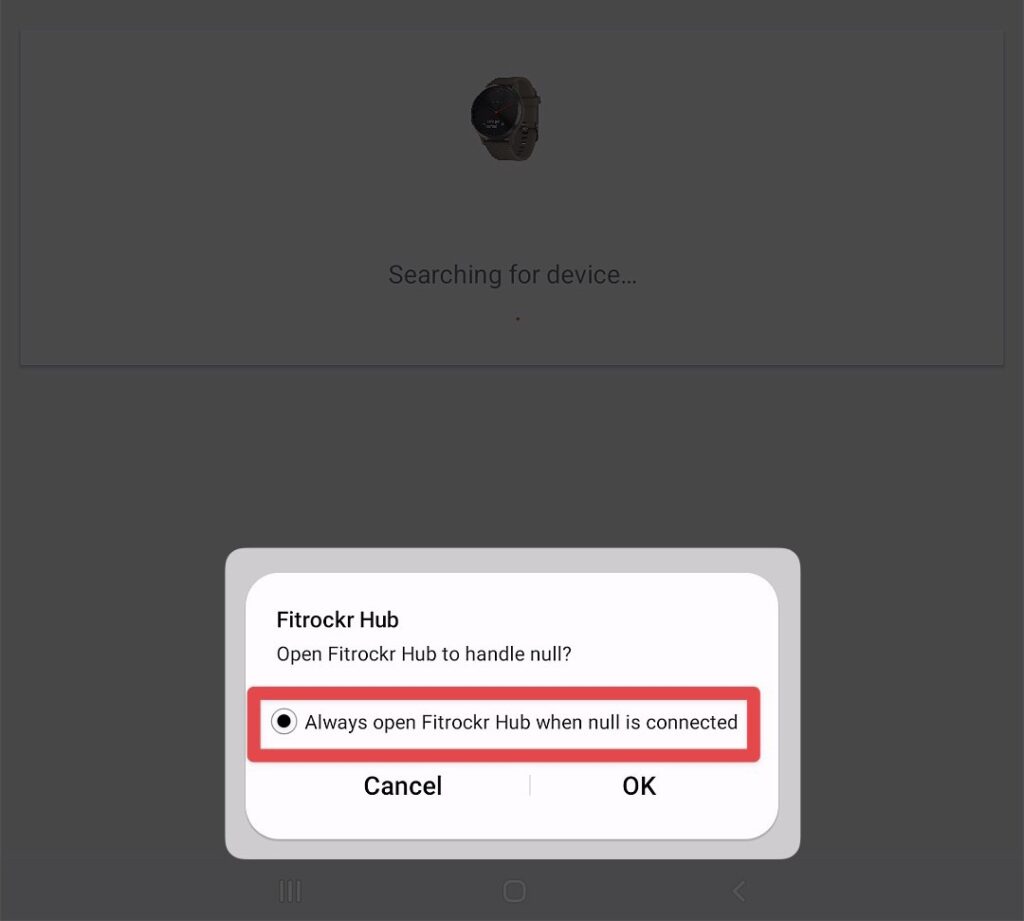 If device is not recognized:
– ensure that you have followed above setup steps and paired/disconnected the device with the tablet.
– check settings on device and ensure that device is set to "mass storage" or "usb mode".